Christians of all ages are invited to join in three united worship and outreach events this Easter!
'Easter Hope! - 2023 is about sharing the message of Hope that is found in the Easter Story and the new life that we have in Jesus,' said Deacon Gary Hoare, President of Churches Together in Weston-super-Mare and district. 'We are co-ordinating three events - a March of Hope on Good Friday, A worship & testimony outreach on Easter Saturday and a Sunrise Vigil on Easter Sunday morning and we would encourage anyone who can, to join us!'
Good Friday March of Hope! - Town Centre - 12 Noon
Our united Easter March of Hope on Good Friday 7th April 2023 is a timely opportunity for believers to share the message of Hope that Easter brings.
We will gather just before 12 noon outside Emmanuel Church, Oxford Street, Weston-super-Mare.
The Route - Those gathered will walk behind a cross down Oxford Street towards the seafront. We shall cross to the opposite (north side) Oxford Street pavement at Nandos, continuing walking towards the seafront. We will cross over Marine Parade and then turn right, walking along the promenade to the Grand Pier. We will then turn right down Regent Street and left along the High Street to the Italian Gardens.
We arrive at the Italian Gardens in time for an act of worship for Good Friday from about 12.30pm. The service will be led by local church leaders with worship led by local singers and musicians.
If it is raining very badly, we will forego the walk and meet for the act of worship at Emmanuel Church at 12 noon.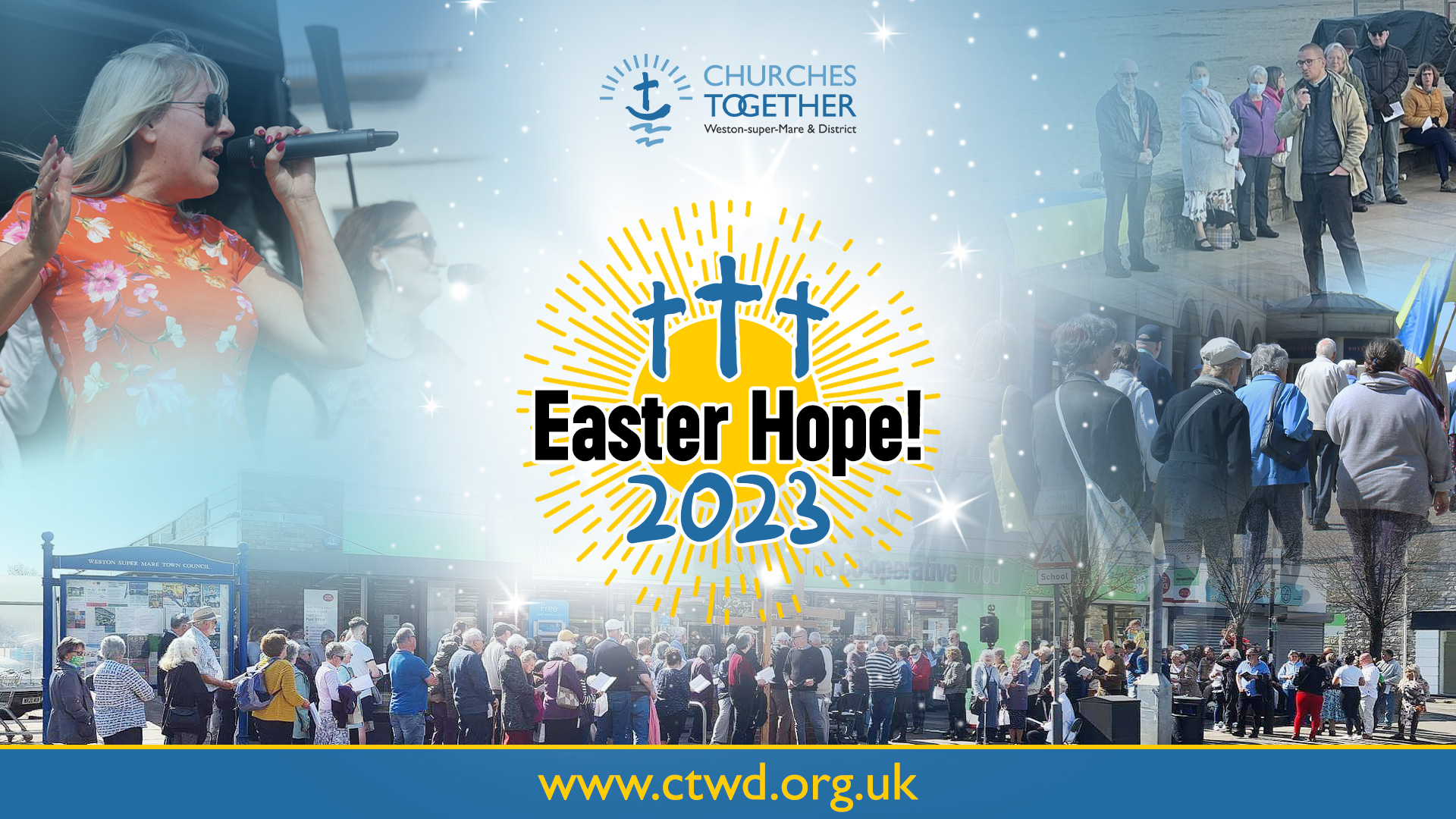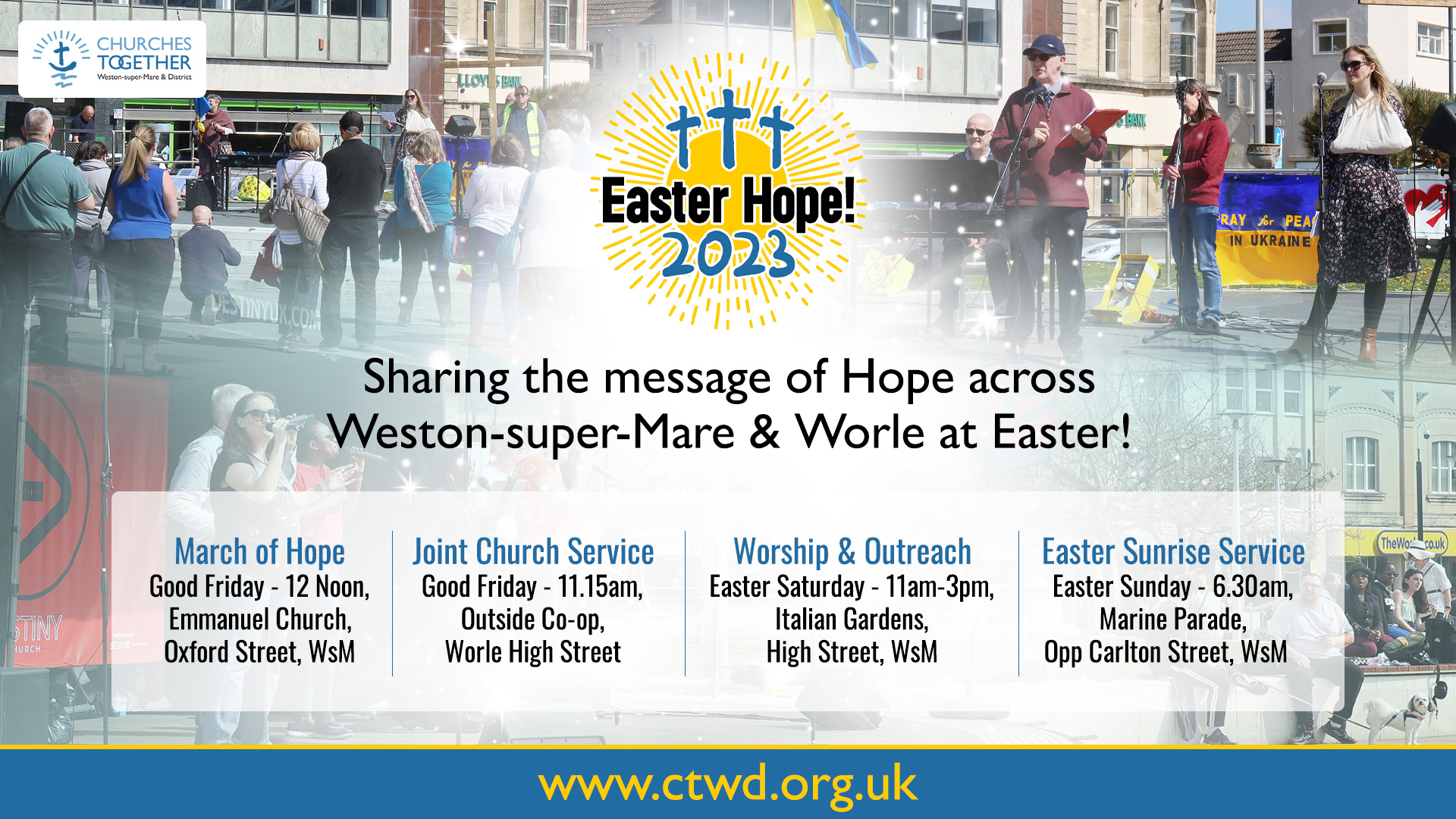 Worle Churches Joint Service - Worle High Street - 11.15am
The Worle and outlying churches will be holding individual services before processing to a joint Good Friday service of witness outside the Co-Op at Worle High Street at 11.15am. Hot cross buns will be enjoyed as participants mingle at the end!
Easter Saturday Worship & Outreach 11am - 3pm
Our friends from Destiny Church are at the Italian Gardens in Weston town centre on Easter Saturday 8th April. Their worship team will be presenting Praise & Worship songs between 11am & 3pm and will be reaching out and sharing God's love. The Destiny Team along with Benny Bunny will also be handing out free Easter treats! All welcome! #DestinyEaster23
Destiny's vibrant worship and uplifting presentation of the message of Easter draws many people as they are about their shopping and taking walks!
Easter Sunday Sunrise Vigil - 6.30am
We highly recommend setting your alarm clock so that you are able to join us for the Easter Sunday Sunrise Service which is to be held on Sunday 9th April 2023, at 6.30am, on the Sea Front opposite Carlton Street. The service will be led by Rev Craig Philbrick, of St Paul's Church, Walliscote Road, Weston. This joyful gathering will be followed by bacon rolls (and a non-meat alternative) on the seafront, kindly provided by St Paul's Church.
All are welcome to join us!