Our Lady of Lourdes Church will be celebrating Climate Sunday on Sunday 3rd October, during the Season of Creation (September 1st to October 4th) and before COP26.
At 9.15 on the 3rd at Our Lady of Lourdes on Baytree Road the young people will be singing and doing the readings.
Also at the start of Mass a youngster will be narrating as a Globe, Jug of Clean Water, Bowl of Soil, Seeds and A plant with fruit, are placed in front of the altar.
They have a pledge about tree planting planned for later in the year.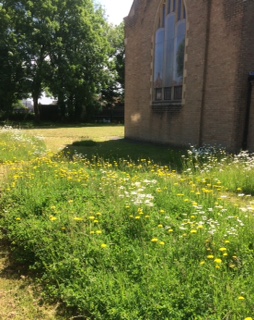 The Children's Liturgy will be working on actions they can take and drawing these. At the end of Mass they will be asking adults to pledge actions for 'Go Green'.
The Church is inviting everyone to wear green on the day. The planning team, coordinated by the Our Lady of Lourdes Parish Pastoral Council gleaned many ideas from relevant websites, Climate Sunday resources, Season of Creation and Cafod as they planned the occasion.
These drawings show the rewilding of the Church Garden at Our Lady of Lourdes in the Summer. Also a 5 year old and a 10 year old's thoughts about how we can Care for Our Common Home.